Septembre 2009
FR

Innondation à Bulacan
Quand nous sommes arrivés à Bulacan, Bocaue, le 24/09/09, les métérologues annonçaient 3 typhons.
Le 26 au matin, vu la force du Typhon Ondoy, deux barrages situés au nord de Manille, décidèrent de lâcher du lest. Vers 11 heures, 2 autres en firent autant.
Résultat : L'eau inonda la vallée traversant la province de Bulacan et bien d'autres pour continuer à s'écouler vers Manille et Laguna Bay. Le 26 vers 20 heures, l'eau atteignait 2,10 mètres. Tout le REZ était sous eau.

GE
Hochwasser in Bulacan
Wenn wir in Bulacan, Bocaue, kam am 24/09/2009, kündigte métérologues drei Taifune.
Am 26 in den Morgen angesichts der Stärke der Taifune Ondoy, Dämme nördlich von Manila, beschlossen sich, balast aus zu lassen. Um 11:00 Uhr zwei andere haben beschlossen, das Gleiche zu tun.
Ergebnis: Das Wasser überschwemmte das Tal in der Provinz Bulacan und viele andere, auch weiterhin in Manila Bis zu Laguna Bay. Am 26, 20 uhr wurde das Wasser 2,10 Meter hoch. Alles war unter Wasser.
UK

Flooding in Bulacan
When we arrived in Bulacan, Bocaue, on 24/09/2009, the weather already announced three typhoons.
The 26 in the morning, given the strength of these two dams north of Manila, decided to make concessions.
Around 11:00, two others did the same.
Result: The water flooded the valley across the province of Bulacan and many others continue to flow into Manila and Laguna Bay. The 26 at 8PM, the water was 2.10 meters. The all first flor was under the water.
Typhon Ondoy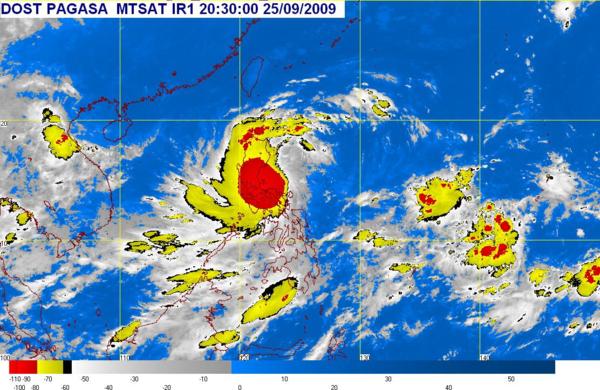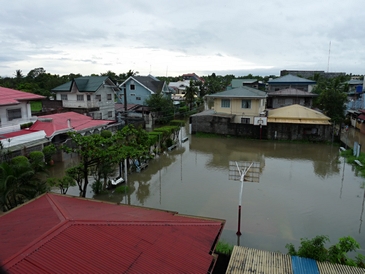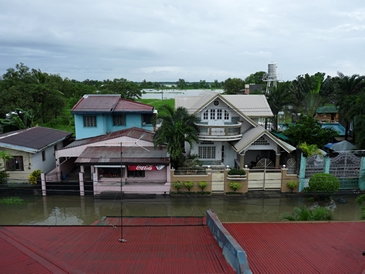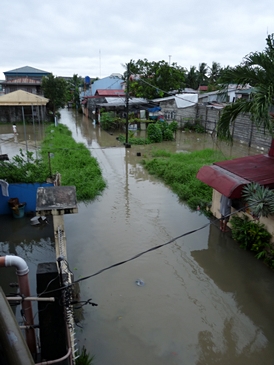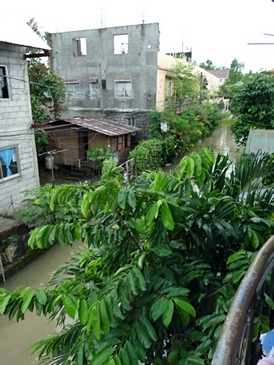 | | |
| --- | --- |
| FR | A 08:30 heures du matin, 30cm - Un Philippin se tient juste en dessous du petit toit rouge. |
| GE | Um 08:30 Uhr, 30cm - Ein philippino steht direkt unter dem kleinen roten Dach. |
| UK | At 08:30 AM, 30cm - A Filipino stands just below the small red roof. |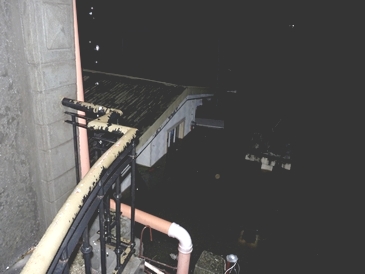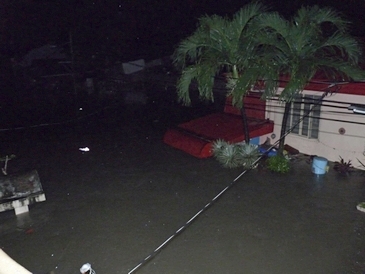 | | |
| --- | --- |
| FR | A 20 heures, l'eau atteint 210 cm, elle frôle maintenant le petit toit rouge et dévale la rue à 1 mètre par seconde. |
| GE | Um 20 Uhr, erreicht das Wasser 210 cm, sie nähert sich jetzt dem kleinen roten Dach. Das Wasser lauft die Strasse hinunter mit etwas 1 Meter pro Sekunde. |
| UK | At 08PM, the water reached 210 cm, she now approaching the small red roof. The water runs down the street to a meter per second. |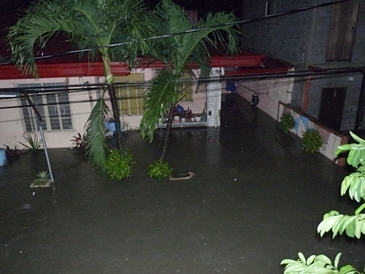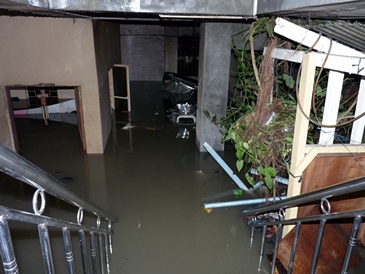 FR

A gauche : Le mur et la voiture du voisin sont sous eau.
A droite : Le REZ est noyé et on devine à peine le tricycle du beau-frère.

GE
Links: Die Wand und das Auto der Nachbar steht unter Wasser.
Rechts: Erdgeschoß ist Ertrinken und Sie können das Dreirad von Schwager erraten.
UK
Left: The wall and the car from neighbor's is under water.
Right: The first flor is drowning and you can just guess the tricycle's of my brother-in-law.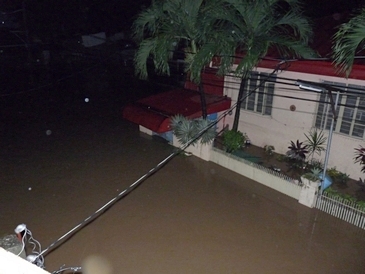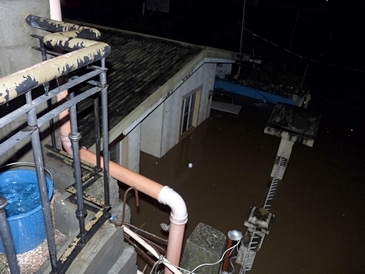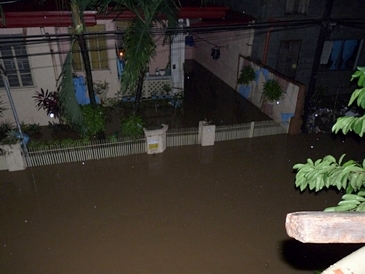 | | |
| --- | --- |
| FR | Le 27 vers 03 heures du matin, l'eau redescant doucement |
| GE | Am 27 um 03 Uhr morgen, Geht das Wasser langsam zuruck |
| UK | The 27 at 03 AM, the water go slowly down |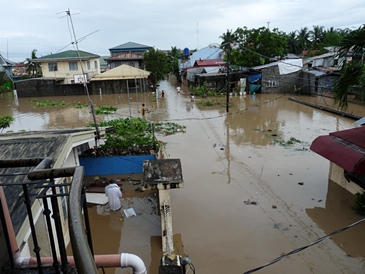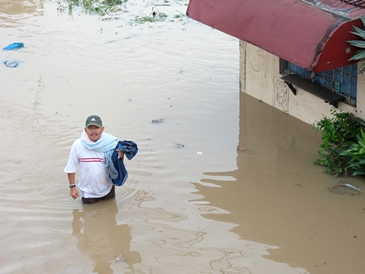 | | |
| --- | --- |
| FR | Un philippin s'aventure. Il est à la recherche d'un endoit sec |
| GE | Ein Philippino probiert eine trockenen Platz zu finden |
| UK | A Filipino try to find a dry places |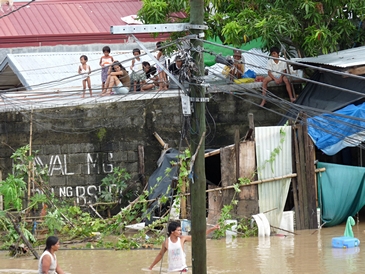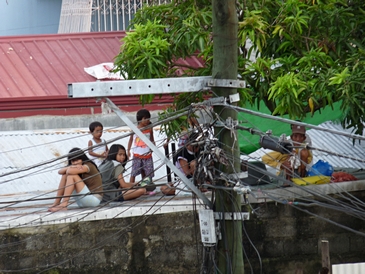 | | |
| --- | --- |
| FR | Le 27 au matin, les enfants, mouillés, sont sur les toits, ils y resteront jusqu'au lendemain. |
| GE | Am 27 in den Morgen, Kinder, nass, sind auf den Dächern, gestiegen wo sie über Nacht blieben.werden. |
| UK | The 27 in the morning, children, wet, are on the rooftops where they remained overnight. |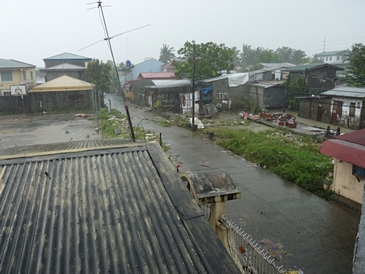 FR

Le 28 midi, la situation se rétabli lentement mais nous sommes toujours sans électricité et sans TF.
Il est temps d'aller chercher à manger, mais nous aurons les pieds mouillés. Un tricycle nous emmène et nous conduit au marché.
Tout n'est que désolation. Tout a été inondé, même le SM de Marilao a perdu énormément et a du fermer.
Les Philippins vident leur maison et les magasins jettent dans la rue leur stock de denrées périssables.
A Marilao, tout ce qui longeait la rivière a été emporté. Il n'y a plus aucun taudis et on nous parle de 57 morts.
Quelques militaires ramassent de la boue dans les rues (60 cm environ). Certaines coulées ont traversé des maisons.
Pour le novice que je suis, le spectacle est ahurissant et à peine croyable.

GE

Den 28, zwölf Uhr ist die Lage wieder gut, aber wir sind immer noch ohne Strom und ohne TF.
Es ist Zeit, nach Nahrung zu suchen, aber wir haben nasse Füße. Ein Dreirad nimmt uns und führt uns auf den Markt.
Alles ist öde. Alles war überflutet, sogar die SM in Marilao hat viel verloren und mussten schließen.
Filipinos leeren ihre Häuser aus und Geschäfte werfen in der Straße ihren faul und nass Bestand.
In Marilao, alles entlang des Flusses wurde weggespült. Jemand spricht von 57 Toten.
Einige militärische räumen Schlamm in den Straßen auf (60 cm). Einige strom ging durch die Häuser.
Für den Neuling, dass ich bin, die Show ist erstaunlich und unglaublich.

UK

The 28 noon, the situation is restored slowly but we are still without electricity and without TF.
It is time to look for food, but we have wet feet. A tricycle takes us and leads us to the market.
Everything is desolate. Everything was flooded, even the SM Marilao has lost a lot and need to close.
Filipinos emptying their houses and shops throw in the street their stock of perishable goods.
In Marilao, everything along the river was washed away. No more slums and some one talk of 57 dead.
Some military collect mud in the streets (60 cm). Some streams went through the houses.
For the novice that I am, the show is amazing and unbelievable.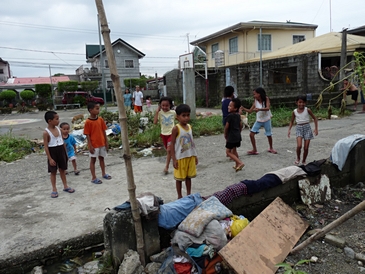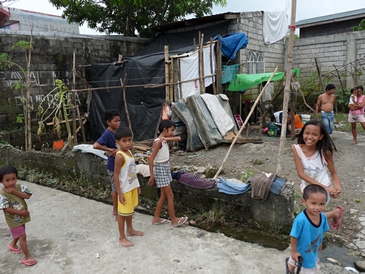 FR

01/10/2010, les enfants "du toit" jouent dans la rue mais les matelas sont toujours mouillés. Les femmes font la lessives.
Les rues sont toujours pleines de détritus de toute sorte et cela commence a sentir très mauvais.

GE

01/10/2010, Kinder "Dach" spielen auf der Straße, aber die Matratzen sind noch nass. Frauen waschen und buggel.
Die Straßen sind noch voller Trümmer aller Art und dieser fängt an zu stinken

UK

01/10/2010, Children "Roof" playing in the street but the mattresses are still wet. Women do laundry.
The streets are still full of debris of any kind and this is starting to smel very bad.
Quelques autres photos du Typhon Ondoy (Trouvé sur le Web)